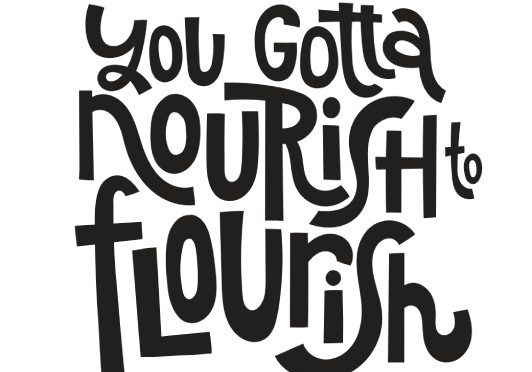 Nourishment & Healing
As we're starting this new year, most of us have made a few resolutions that we'd like to keep, knowing deep down that, by next month, we'll mostly have forgotten about them. One of those resolutions usually entails eating healthier. As good as this is, nourishing ourselves should not just be about eating healthy.

There are so many other things that we ingest during the course of the day, that nourish us – or not – in different ways. The Buddhist Mindfulness Trainings offer a deeper insight here:
According to the fifth training, there are four kinds of nutriments that we consume; edible foods, sense impressions (psychic and physiological effects resulting directly from the excitation of a sense organ), volition (free will) and consciousness. Whether you adhere to Buddhist ideas or not, it is important to remember that the idea behind Buddhism is to offer a path towards the end of suffering, i.e. to become happy. As stated in the Mindfulness Trainings, much suffering is caused by what the Buddhist's call 'unmindful consumption'.

Although we now know how much of an impact a healthy diet has on our mental and physical health, the general public still knows little about the detrimental effects of the other kind of nutriments on both our physical and mental health. It's safe to say that most of us would like to live a long and happy life, so let's return to the Buddhist guidelines and see what advice they offer regarding nourishment. In a nutshell, they advise that we should refrain from consuming anything that may be toxic, as this leads to suffering. This includes:
Food and drink
Websites
Electronic games
TV programs
Films
Magazines
Books
Conversations
Relationships
Any other activity that may be leading to suffering in one way or another for yourselves, others or the planet
The point here is not to make a moral judgement, but rather, to invite you to look at what in the above list might cause you suffering, so that you can transform it into something that nourishes you in a positive way.
Life is challenging, no doubt about that, so how about – instead of a long list of new year's resolutions that you won't keep because life is just too busy – you try do to this one thing: When you have had a tough day that took it out of you, make sure you nourish yourself with something good for you: healthy food, an inspiring book/movie/conversation, true connection with a loved one, …
Get our latest articles straight to your inbox